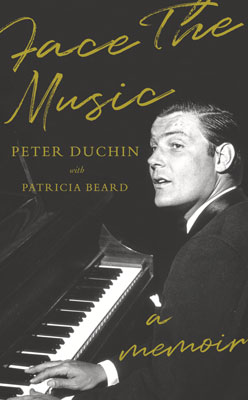 Face the Music, A Memoir, written by the internationally famous bandleader Peter Duchin with co-author Patricia Beard is a poignant reflection on family, a bygone era of glamour, and a stroke that almost stopped the clock. A frank, philosophical and often humorous portrait of an extraordinary life, its disruptions and revitalization, Face the Music is wise and witty, a unique view of personal and social history from on and off the bandstand.
Face the Music is Patricia Beard's first collaboration.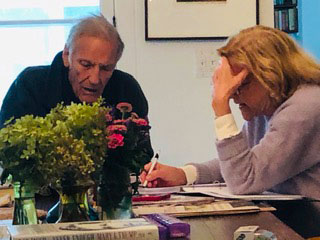 Peter Duchin's six decades of performing have taken him to the most exclusive dance floors and concert halls in the world. He has played for presidents, kings and queens, as well as for civil rights and cultural organizations. But in 2013, he suffered a severe stroke. During a long and arduous rehabilitation, he began to reconsider his complicated past.
He began with his parents. His father, the legendary pianist and bandleader, died when Peter was twelve; his socialite mother, Marjorie Oelrichs Duchin, died six days after Peter was born. Until he was nine years old, as his father traveled with his band, then served with distinction in the Navy, he was brought up by the diplomat, ambassador and New York governor Averell Harriman and his wife, Marie.
(A moving—if not entirely accurate—version of Eddy and Marjorie's headline romance and marriage and Peter's early life is presented in the 1956 movie, The Eddy Duchin Story, a classic favorite.)
Peter followed his father to become the epitome of mid-20th Century glamour, and in Face the Music, he continues his post-stroke exploration by describing the rarified nightlife he knows so well, as seen with his new perspective. Offering a window into an era of debutantes and white-tie balls, Face the Music explores what glamour and Society once meant, and what they mean now. His observations are enriched by his understanding of the privileged world in which he is both an entertainer and a member.
In March 2020, Face the Music came to a halt, as Peter fought a life-threatening case of Covid-19. Sedated and intubated for forty-seven days, his chances of surviving were so slim that a rumor circulated that he had died. He beat the odds, and while he was still in the hospital, he and Patricia Beard began again. Within a year after the virus struck, the book was ready to go out into the world.
Photographs from Peter's personal collection and iconic images by such famous photographers as Horst P. Horst and Cecil Beaton illustrate a moving and beautifully designed book:
Praise from author Adriana Trigiani, pianist and singer Michael Feinstein, authors Deborah Davis, Peter Godwin and Philip K. Howard:
"It would be a glorious wedding day in Waterford, Virginia, but the prop jet carrying the orchestra could not land in the morning fog. Suddenly, on the hilltop, a miracle! The bandleader, Peter Duchin, flanked by his orchestra appeared in the mist like The Four Horsemen of the Apocalypse. They wore snappy tuxedos, their bowties loose like lariats. Duchin had his jacket slung over his shoulder on the crook of his finger. Nonchalance embodied!
"Face the Music is a memoir by the maestro who accompanied Sinatra, played Capote's Black and White Ball, and entertained presidents. An outsider with a gift for inclusion, Duchin is equally at ease chatting with royalty or taking a meal in the hotel kitchen with the staff. Wherever he plays, Duchin owns the joint. This is the story of how a stroke temporarily stopped the music, a broken heart led to a redeemed one, and the colorful characters who make his life a shimmering work of art also helped him heal. Written with the gifted Patricia Beard, this is a book for anyone who seeks strength, redemption and wisdom. Candor and wit are the ebony and ivory of this splendid read. Duchin never gives up because there's always the next gig. Hallelujah!" —Adriana Trigiani, New York Times bestselling author of The Shoemaker's Wife.

"There are so many reasons to admire Peter Duchin and his moving memoir. It's a victorious celebration of life filled with marquee names and stories, radioactive in their resonance. He knows how to live!"—Michael Feinstein, singer, pianist and founder of The Great American Songbook Foundation.

"Peter Duchin's eloquent meditation on his remarkable life hits all the right notes. A bewitching combination of wit and wisdom, heart and soul, and a story that touches and entertains, the book is captivating from start to finish. I didn't want it to end!"—Deborah Davis, author of Party of the Century: The Fabulous Story of Truman Capote and His Black and White Ball.

"In person, Peter Duchin lights up a room. His book is similarly luminous. Recounted with his signature charm, Face the Music thrums with humor, brio and intelligence."—Peter Godwin, author of Mukiwa and When A Crocodile Eats the Sun.

"Inspiring and beautifully written.  A journey through the highs and lows of a brilliant career, twice interrupted by life-threatening illnesses, which he overcame to return to the bandstand. What perils and triumphs! What a life!"—Philip Howard, New York Times bestselling author of The Death of Common Sense.